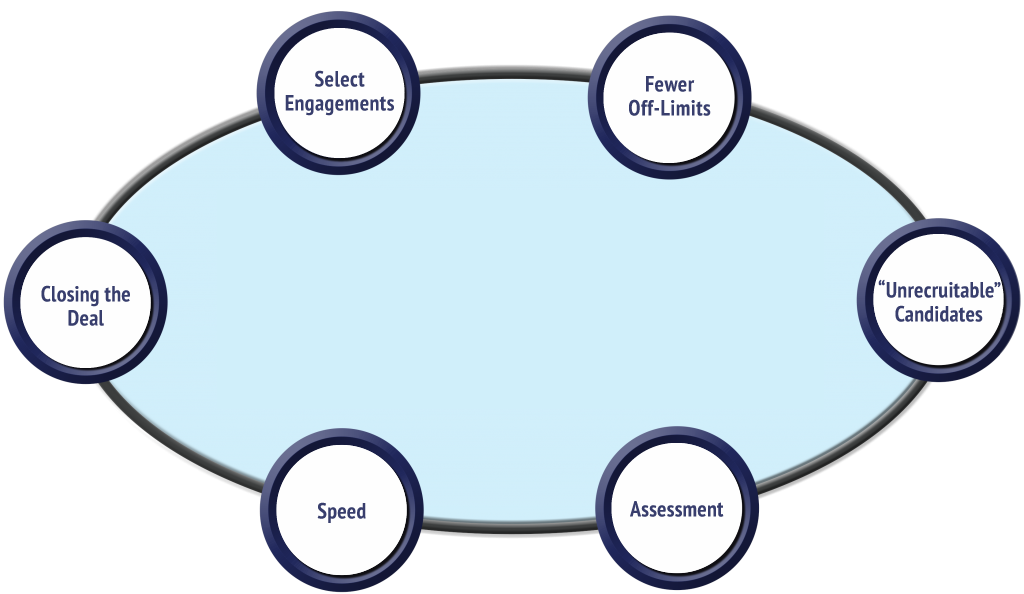 Our Approach
Select Engagements
Barr Resources was founded on a core commitment to delivering long-term results for its clients. By limiting itself to a select number of high end engagements, Barr Resources is able to immerse itself in its clients business and culture to clearly document the organizational requirements and selection criteria. A successfully concluded search is not a short term fix. It is the installation of a talented leader whose vision and character match the client's business strategy and culture.
Fewer Off Limits
By viewing itself as partner to a select, manageable number of clients, Barr Resources eliminates potential "off limits" conflicts and is able to search as far afield as may be appropriate.
"Unrecruitable" Candidates
With the conviction that the most talented candidates are generally not in the market and need to be "acquainted" with the right opportunity, Barr Resources prides itself on recruiting the "unrecruitable."
Assessment
Barr Resources knows first hand the debilitating organizational impact of choosing the wrong executive. While the firm prides itself on bringing the full weight of its experience to bear in the assessment of candidates, it also operates with the belief that relevant empirical data can facilitate the right hiring outcome. Independent testing enables the client to compare an objective assessment of a candidate's personality and cognitive thinking abilities to the interview results. The firm facilitates independent personality and cognitive testing upon request.
Speed
The firm seeks to accelerate the search process and reduce potential drag on clients' business initiatives by leveraging its extensive network of senior HR executives as well as candidates sourced in previous HR search assignments.
Closing the Deal
The firm's experience in managing executive searches from both sides of the desk allows clients and candidates to take advantage of its knowledge and expertise in executive compensation to facilitate offer packages resulting in the successful installation of a new leader.